Redwood Empire Foster Parent Association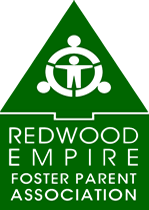 Redwood Empire Foster Parent Association
The Redwood Empire Foster Parent Association receives support from businesses and individuals around our community. Without this support we would not be able to provide our services to foster parents or thew children they so lovingly serve.
We would like to thank the following partners for their efforts in helping our community:
"I, alone cannot change the world, but I can cast a stone across the waters to create many ripples."
~Mother Teresa
"To the world, you may be one person, but to one person you may be the world."
~Dr. Seuss