Redwood Empire Foster Parent Association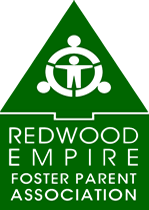 Redwood Empire Foster Parent Association
Before the Blue Bag Project began in 1999, a child who entered a new emergency foster home often came with nothing more than the clothes he or she was wearing. A child who was moved from one foster home to another would bring along a few items, often in a plastic bag.
Your donations allow REFPA to provide each child who is entering foster care with a new duffel bag.  This bag is filled with new clothes (gender specific, size and season appropriate) and a few toys.
These duffel bags and the items they contain become the child's
own property.
At this time each bag includes a quilt, brush, socks, 4-5 outfits, stuffed animal, sweatshirt, books, toy, and jacket.  We distribute 160 bags per year.
This fund provides monetary grants to foster children for extracurricular activities and one-time large expenses. Recent grants have included bicycles, karate lessons, art camp, sports fees, and school trips.
We have also helped high school seniors buy yearbooks and participate in their senior proms and Grad Nights.
2019, ~ $11K in Scholarships were given to 44 Foster Youth
"Never doubt that a small group of thoughtful committed citizens can change the world;
indeed it's the only thing that ever has."
~Margaret Mead